EXHIBITIONS, GALLERY INSTALLATIONS, & PERFORMANCES created solo and in collaboration with scientists, visual artists, filmmakers, and dancers.
(Please visit the LISTEN page for sounds samples of these works. Also, visit the FILM Shorts page. To purchase soundtracks/scores/films ~ visit the STORE!)
---
PRESENTATION : "Black Holes, White Holes"…featuring PORTAL soundscape.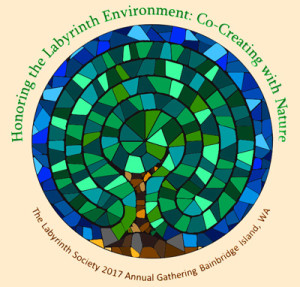 Saturday, October 28th, 2017 @ 4:00 PM
The Labyrinth Society Annual Gathering
Island Wood, Bainbridge Island, Washington
The Labyrinth Society Annual Gathering is a casual, public conference spanning three days with special workshops and local tours before and after the main event. It is a time when labyrinth enthusiasts and experts gather from around the world to learn, share, and celebrate labyrinths. The Annual Gathering includes featured speakers, break-out sessions, sales of labyrinth-related products, silent auction, and a wide variety of labyrinths for walking.
INTERVIEW : Soundscapes and Labyrinths: What's the Connection? Take a fascinating cosmic journey with Portland OR resident, classical composer, and bio-musician, Susan Alexjander, as she shares her vision of interconnectedness through sound and labyrinth metaphor and symbolism.

---
CeLOUbration – Music Series : Lou Harrison Centennial 1917-2003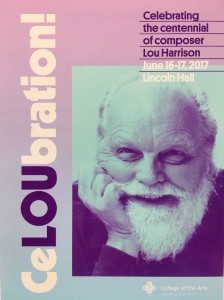 Friday June 16 – Sat June 17, 2017 (Portland State University, Lincoln Hall) –  Music by—and inspired by—Lou Harrison.  (View Complete Program PDF)
Born in Portland in 1917, renowned composer Lou Harrison defied convention, embracing non-Western music, advocating gay rights and environmentalism and pursuing melodic beauty along with musical innovation throughout his colorful career.
Includes the world premiere of Three Little Multiverses (for Lou): Music, Susan Alexjander. Text, Lou Harrison. Three songs for Mezzo Soprano and chamber group (Hannah Penn, mezzo; Diane Chaplin, cello; Catherine Lee, English horn; Kate Petak, harp). Commissioned for Lou's 100th Birthday Celebration.
Featuring Portland State School of Music, Venerable Showers of Beauty gamelan ensemble, Portland Percussion Group and guest musicians for concerts and talks celebrating the centennial of Oregon's greatest composer, plus premieres of new music inspired by Harrison's pioneering legacy. Presented in partnership with Cascadia Composers.
---
CONTINUUM – Gallery Exhibit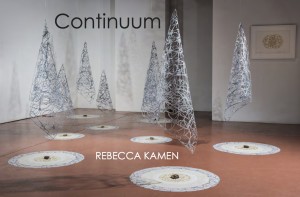 April 13 – May 27, 2017 (Philadelphia, PA) – Esther Klein Gallery (EKG) 3600 Market Street Philadelphia, PA 19104 .   (Esther Klein Gallery Website  | (215) 966 – 6188 | Gallery@sciencecenter.org | www.rebeccakamen.com ) .
Opening Reception : Thursday April 13, 5 – 7:30 pm — Featuring a performative dance element by Megan Mizanty. (POSTCARD DETAILS :
"Continuum"  by Rebecca Kamen explores the relationship and poetics between inner and outer space and showcases the multimedia installation NeuroCantos, created in collaboration with sound artist Susan Alexjander.
---
NEUROCANTOS – Performance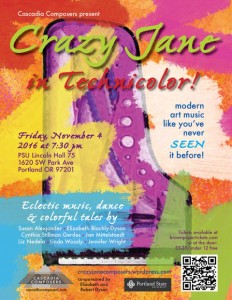 FRI – Nov. 4, 2016 (Portland, OR) – PSU Lincoln Hall -Performance of "Neurocantos" ~ featuring a digital composition about the busy brain and improvisational dancer Melissa St. Claire, as part of the "Crazy Jane in Technicolor" performance. (Visit the Crazy Jane Composer Website) .
ABOUT "CRAZY JANE IN TECHNICOLOR" ~ This is modern art music like you've never seen it before! Seven Crazy Janes – women composers of Cascadia – present their vivid and eclectic musical visions in vibrant, glowing COLOR. Fresh works including modern dance, piano duets and songs, sultry tangoistas, an electrified harpsichord, stories from Rudyard Kipling, electro-acoustic sounds of the brains workings and a dazzling live visual display of musical waveforms create a riveting program! A collection of some of Portland's best performers bring together striking music, dance, improvisational movement and narration in one unforgettably colorful evening.
---
PORTAL : Black Holes / White Holes – Presentation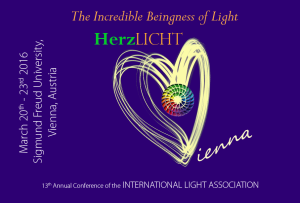 March 20-23, 2016
International Light Association  HertzLight Conference
Vienna, Austria | Website
A unique gathering of professionals in the sciences, medicine, psychotherapy, lighting applications and the creative arts about current developments in the world of light and connections to health and wellbeing.
---
 PORTALS OF SOUND AND LIGHT – Black Holes and Beyond – Curious Minds with SUSAN ALEXJANDER
March 25th – 7PM, 2016
Brody Studios – Budapest, Vörösmarty u. 38, 1064 Hungary | Website (View PDF)
You will first be entertained by a sound journey (Portal; Black Holes/White Holes). The soundtrack, an art piece, is derived from scientific data (NASA space sounds, pulsars, 'mapped' binary pair trajectories, etc.), and from sound samples of Earth (whales, dolphins, frequencies of water and elements). Listen here
Following the sound journey, we will explore some of the fascinating theories and mysteries surrounding this black hole quest – clearly the Holy Grail of physics today, and perhaps our most compelling modern collective myth. One hundred years ago Einstein predicted black holes but thought it unlikely that nature could actually have created them. Now we know they are everywhere…
---
 CONTINUUM – Sculpture, Poetry and Soundscapes (Portal & Neurocantos)
Dec 3rd – Feb 13, 2016
Greater Reston Art Center (GRACE); Reston, VA | Website
A collaboration with sculptor Rebecca Kamen and poet Steven J. Fowler
NEUROCANTOS depicts inner and outer spaces of the brain, using language and poetry by Steven J. Fowler layered with the sounds of space.
PORTAL SOUNDSCAPE is the story in sound of what happens when two collapsed neutron stars (black holes) orbit around each other and finally merge, transforming on the other side of the singularity point. Sounds are from NASA, Earth, and the microtonal worlds of water and elements.
---
PERCEPTIONS OF SOUND – Eikos Performance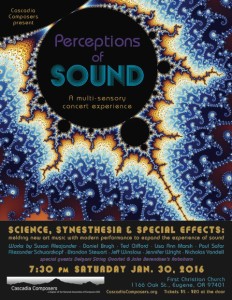 Jan 30, 2016
First Christian Church, 1166 Oak St. Eugene, OR 97401| Website
My piece Eikos for violin and synthesizer will be performed as part of this program. Violin (Paul Engler) and synthesizer (Susan Alexjander).
Cascadia Composers Present – "Perceptions of Sound a multi-sensory concert experience" – Science, synthesizer, and special effects : melding new art music with modern performance to expand the experience of sound. Featuring works by Susan Alexjander, Daniel Brugh, Ted Clifford, Lisa Ann Marsh, Paul Safar, Alexander Schwarzkopf, Brandon Stewart, Jeff Winslow, Jennifer Wright, Nicholas Yandell w/ special guests Delgani String Quartet & Berendzen's Robohorn.
---
New Music by Cascadia Composers : "Buffalo Bill's Defunct" performance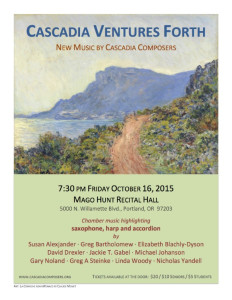 Oct 16, 2015
Mago Hunt recital hall, University of Portland, 5000 N. Willamette Blvd. Portland, OR 97203| Website
My piece Buffalo Bill's Defunct for saxophone and two narrators (text by ee cummings) was performed as part of this program.
The Cascadia Composers invite you to leave your timbral comfort zone and explore compositions highlighting instruments not-so-common in chamber music. Our fall concert: "Cascadia Ventures Forth", is an exhilarating collection of works featuring saxophone, harp, accordion, vibraphone and so much more.
---
PORTAL SOUNDSCAPE : Black Holes & White Holes
February 17th – July 6th, 2015
National Academy of Science; Washington, D.C. | Website
A collaboration with sculptor Rebecca Kamen

PORTAL SOUNDSCAPE is the story in sound of what happens when two collapsed neutron stars (black holes) orbit around each other and finally merge, transforming on the other side of the singularity point. Sounds are from NASA, Earth, and the microtonal worlds of water and elements. First premiered in Portland, Oregon, November, 2014.
---
New York City Electroacoustic Music Festival – Portal Performance
June 22-25, 2015
New York
Abrons Art Center
Info : info@nycemf.org | www.nycemf.org
The New York City Electroacoustic Music Festival is dedicated to showcasing the best electroacoustic music and video art from all over the world in New York City, through a multi-day festival. The festival includes electroacoustic music recorded alone in up to eight channels, works involving live electronics, works combining musical instruments or voices with recorded or live electronics, video and multimedia works, and audio and video installations.
---
Moth Soundscape : Exhibit
July 3 – August 8, 2015
Oakland, CA
Vessel Gallery
A collaboration with Diana Hobson
Info : https://www.vessel-gallery.com/exhibits.html.
My soundscape, "Moth," is featured in a retrospective of Diana Hobson's work.
---
BODY SUNG ELECTRIC – Agnieszka Laska Dancers w/ Cascadia Composers Electroacoustic Scores
Sunday March  15, 2015
PORTLAND, OR, PSU Lincoln Hall, Rm 175

Cascadia Composers electroacoustic scores supercharge new choreography from Agnieszka Laska Dancers.  Cascadia Composers represented at this event include Susan Alexjander, John Bilotta, Tristan Bliss, Daniel Brugh, Jack Gabel, Gary Noland, Dan Senn and Tomas Svoboda.
Choreography by Agnieszka Laska and ALDancers: Kelsey Adams, Sissy Dawson, Allie Fahsholz, Sharon Lane, Lauren Sprague, Caitlin Wichlacz – joined on stage by Merlin Benneth, Niqi Cavanaugh and Karissa Dean.
---
Divining Nature: An Elemental Soundscape
Music composed with frequencies derived from 8 elements of the Periodic Table.  (For the original installation of Divining Nature, An Elemental Garden, with sculptor Rebecca Kamen – see below)
Noise and Whispers, GVART Gallery; London An exhibit devoted entirely to SOUND, featuring more than thirty sound artists. [ View online catalog.]
---
FLUID : A Sound Journey Through The Body
Colors of Water Festival: A festival of art, science and music inspired by water…London, UK. [ Learn more about 'Fluid' ]
Mae-Wan Ho, festival director & director and co-founder of the Institute of Science in Society, is best known for pioneering work on the physics of organisms and sustainable systems and the liquid crystalline water of the living matrix. Mae-Wan has more than 170 scientific publications, 18 books, and over 500 popular articles and essays across all disciplines. Regarded by some as "the most influential scientist alive today," her work not only informs the public and policy-makers, but is also deeply appreciated by other scientists as well as those trained in arts and the humanities, being herself an artist and occasional poet.
It has been her life-long ambition to integrate sciences, arts and the humanities in a complete way of knowing, understanding, and living. She has produced a new book on the quantum physics and chemistry of water in living organisms, 'Living Rainbow H2O'.
---
Divining Water: The Art of Flow
November 3-5, 2011
3rd International Symposium on Aqua Science, Water Resources and the Arts.
Artists and scientists dialog together to imagine new perspectives on water. In collaboration with Susan Plum, glass sculptor.
WATCH VIDEO – Divining Water: Fluid Universe, by Susan Plum. Soundtrack by Susan Alexjander

---
Fluid: Soundtrack presentation –
ILA – International Light Association – Quebec, Canada
The body's "Breath of Life" in Sound and Light
Fluid is an artistic collaboration between sound designer Susan Alexjander and sculptor Rebecca Kamen. Illumination, shown on right, is one of three sculptures for the exhibit. Fluid reflects the artists' visions of how our body communicates through cycles and frequencies with itself, the Earth and the overall Matrix of life.*
Soundtrack presented to the ILA October of 2011.
Fluid is an intimate journey in sound using the cranial-sacral healing model of the Breath of Life, stillpoint, restlessness and reorganization, and transformation into a new stillpoint. It is a deep experience of yourself. As we head towards a vibrational breakthrough on this planet which involves sensuous, body intelligence, a new harmonic connection to creation is coming forth, and everything is jamming! READ – Fluid, The Sound Creation (View PDF)
---
Elemental Matters : Artists Imagine Chemistry
The artists in Elemental Matters invent different ways to experience the elements and the periodic table.  Elements of Tone was created in collaboration with sculptor Rebecca Kamen , accompanying her sculptures of hydrogen, helium, carbon, oxygen, nitrogen, phosphorus, silicon and sulphur.
Elemental Matters : Artists Imagine Chemistry
Elements of Tone is music created from the sounds of eight elements from the periodic table in the order they are created by a star. Read More
---
Ocean: Coming On The Backs of Whales
Oddfellows Hall, Mendocino, CA.
An Experiential, Walk-Through Art Installation featuring underwater footage of whales and dolphins by photographer Lisa Denning, and soundtrack by SA: Coming On The Backs of Whales. Directed and envisioned by Thais Mazur (Visit website).
Stunning moving images of whales and dolphins were projected onto fabric and stretched across 30-ft.-long screens hung in the middle of the gallery to create a surround-image experience. Friday, July 9th featured a talk by bio-acousticscientist Michael Stocker speaking about the mysterious ocean soundscape, how underwater life communicates through sound and the importance of protecting that fragile world.
Coming On The Backs of Whales  takes its inspiration from the Maori view of the ocean as a giant crystal.
---
Divining Nature: An Elemental Garden Soundscape
This soundscape was created for sculptor Rebecca Kamen's gallery installation: Divining Nature: An Elemental Garden at the Greater Reston Art Center, Reston, Virginia October 1- November 14, 2009.
Ms. Kamen transformed the open, hexagonal gallery into a luminous sculptural installation based on the Periodic Table of Elements. The soundtrack consists of Larmor Frequencies translated into tone/music from 83 elements: Hydrogen to Bismuth.
"As composer Susan Alexjander's etherial music floats through like a cosmic breeze…the Elemental Garden breathes tranquility."
Joanne Bauer, curator GRACE.

---
Workshops: Vibrational Medicine 2007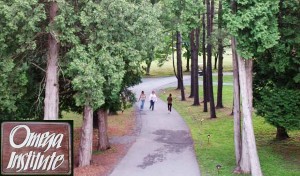 ---
In Vivo – In Vitro
Feb. 6 – March 6, 2006
Athens Fine Art School and Artopos, Athens, Greece
SEQUENCIA—part of a Bio-Art event exhibiting international artworks. A new osmosis between Art, Science and Life.
---
Zero Waiting : Openings & Events

June 2 – July 30, 2006 – PVAC – Pajaro Valley Arts Council Gallery – Visuals by Diana Hobson, soundtrack by Susan Alexjander.
October 6th – November, 2005 Cogswell College Art Gallery, Sunnyvale, CA, Visuals by Diana Hobson, soundtrack by Susan Alexjander. Exhibit also featured sculptures in bronze, concrete and glass by Diana Hobson.

August 20 – Sept. 20, 2005, Grand Opening – The Salt Gallery Hayle, Cornwall, UK
---
Women In Science (Genomically Yours)
Feb 22 – March 22, 2003 –  New York City, Universal Concepts Unlimited

Five women artists whose work includes the science of DNA. Dedicated
to Rosalind Franklin, creator of the first X-Ray crytallography of DNA
in l953. 50th year celebration.
---
Into Being – The River (Video installation)
Museum of Art and History , Santa Cruz, California. A Collaboration between video artist Diana Hobson and Susan Alexjander, Sound design (Digital Performer). Part of a celebration of the San Lorenzo River – River Reflections.
INTO BEING
A River
So Ancient
In darkness
she stirs
an atom of conciousness
a whisper
of time
I heard her name in the silence
and from oblivian
she moves silently
seeping
unseen
Emerging
To hold the Sun in our eye
and the BLINK
of the eye of the Sun
seeing himself
in our face
(D.H. 2003)
---
WORKS IN PROGRESS
Book : The Sacred Chain: A Cosmology of Tone. A look at correspondences between the resonance of pulsar tones, elements, DNA, important time cycles and water (the Great Connector).