---
"See deep enough, and you see musically;
The heart of Nature being everywhere music, If you can only reach it."
—Thomas Carlyle
---
---
 Featured Video
Cymatics video of NeuroCantos by graphic designer, Tim Chrepta.
Designed for the 2017 exhibition at the Esther Klein Gallery in Philadelphia, PA) . Soundscape by Susan Alexjander.
NeuroCantos Cymatics Video from Youtube .
The brain is a busy place.  Neurons fire, thoughts swirl.  Only a tiny fraction of sensory input reaches our consciousness…what happens to the rest of it, and who is doing the 'sorting'?!  Hear an imagined journey of the mind, including the sounds of Steven J. Fowler's poetry.
---
What's New!

Current & Upcoming Events
MUSIC SERIES : CeLOUbration – LOU HARRISON CENTENNIAL 1917-2003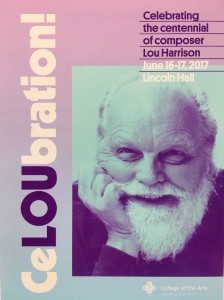 Friday June 16 – Sat June 17, 2017 (Portland State University, Lincoln Hall) –  $20 general | $15 Seniors, PSU, Cascadia Composers | Students Free | Weekend Pass $30 | BUY TICKETS  or Call 503.725.3307  . Music by—and inspired by—Lou Harrison.  (View Complete Program PDF)
Born in Portland in 1917, renowned composer Lou Harrison defied convention, embracing non-Western music, advocating gay rights and environmentalism and pursuing melodic beauty along with musical innovation throughout his colorful career.
Includes the world premiere of Three Little Multiverses (for Lou): Music, Susan Alexjander. Text, Lou Harrison. Three songs for Mezzo Soprano and chamber group (Hannah Penn, mezzo; Diane Chaplin, cello; Catherine Lee, English horn; Kate Petak, harp). Commissioned for Lou's 100th Birthday Celebration.
Featuring Portland State School of Music, Venerable Showers of Beauty gamelan ensemble, Portland Percussion Group and guest musicians for concerts and talks celebrating the centennial of Oregon's greatest composer, plus premieres of new music inspired by Harrison's pioneering legacy. Presented in partnership with Cascadia Composers.
CONTINUUM – Gallery Exhibit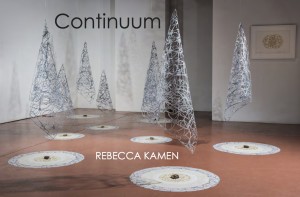 April 13 – May 27, 2017 (Philadelphia, PA) – Esther Klein Gallery (EKG) 3600 Market Street Philadelphia, PA 19104 .   (Esther Klein Gallery Website  | (215) 966 – 6188 | Gallery@sciencecenter.org | www.rebeccakamen.com ) .
Opening Reception : Thursday April 13, 5 – 7:30 pm — Featuring a performative dance element by Megan Mizanty. (POSTCARD DETAILS :
"Continuum"  by Rebecca Kamen explores the relationship and poetics between inner and outer space and showcases the multimedia installation NeuroCantos, created in collaboration with sound artist Susan Alexjander.
---
ZUVUYA – ongoing project devoted to the health of our ocean
ZUVUYA is an ongoing project devoted to the health of our oceans. (Visit the Zuvuya Project Website)
It features the amazing living sculpture, OCEAN, an immersive, interactive installation by Thais Mazur, video (on hanging screens) of life-size whales and dolphins by underwater filmmaker Lisa Denning, and sound design Coming On The Backs of Whales, by Susan Alexjander.
---
Be sure to check out my Recent Work page too!